Welcome onboard the Marie
The 180-foot Marie, with her lustrous black hull, boom, and masts is a one-of-a-kind custom vessel, combining classic aesthetics, contemporary openness, and the highest level of modern technology. Her 1920's André Hoek design is reminiscent of the Golden Age of Yachting, yet she offers all the spacious comforts and amenities of a 21st century yacht.
Marie sails extremely well and provides a steady motion at sea. Her bulb keel yields a very fast hull; the carbon fiber, hybrid modulus spars fitted with EC6 rigging are state-of-the-art, as are her furling booms, and all her forward-thinking systems. For a competitive edge, Marie sports a set of sails that allow 18+ knots close reaching.
Marie cruises with family and friends and is available for charter.
About The Marie
The magnificent Marie personifies heart and soul–she was conceived with love and a profound sense of purpose and spirit. She is a yacht to stand the test of time. Marie is a successful combination of classic lines and modern performance.
Marie's deck and outside areas accommodate numerous places for entertaining, dining and lounging. The main cockpit is a generous area offering casual seating arrangements and a large dining table for al fresco meals. The private aft owner's cockpit is perfect for an intimate breakfast.
Down below, Marie has a split-level main salon panelled in buttery anigré and flooded with light. The lower salon features a Steinway Baby Grand Piano for a musical soirée and comfortable sofa seating. A formal dining area is forward. Artwork and antique armament abound adding colorful eclectic touches to the clean contemporary design of the interior. There are sumptuous guest accommodations for up to ten including an enormous master suite with a California King-size bed, lounge area, office, and steam room, and three luxurious guest cabins all ensuite.
Specifications
Measurements and design
Rig: Ketch
Length: 54.86m (180′) LWL 38.41m (126′)
Beam: 9.45m (31′)
Draft: 4.88m (16′)
Year Built: 2010
Builder: Vitters, The Netherlands
Interior Designer: Hoek Design / David Easton
Naval Architect: Hoek Design Naval Architects BV, The Netherlands
Owner's Representative: Nigel Ingram/MCM
Hull Construction: Alustar
Accommodations
Number of Guest Cabins: 4
Total Guests (sleeping): 8 – 10
Total Guests (cruising): 12
Cabin/Bed Configuration: 2 Kings, 2 Twins/1 Convertible to King, 2 Pullmans
Total Crew: 8
Commercial/MCA/ISM Status: ABS – A1 Commercial Yachting Service (sailing yacht)
Engines and Generators
1 x Caterpillar C32 1100hp @ 2100rpm
2 x Northern Lights Generators @ 67kW
Bow and Stern thruster is OYS hydraulic 125hp swing
Fuel Capacity: 28.100 liters
Fuel Consumption: 18 US Gallons/Hr
Cruising Speed Under Power: 12 knots
Sailing Speed: Up to 18 knots
Keel Stepped: Carbon Fiber Masts with in-furling booms
Mainmast: 62.1m (204′)
Sail Inventory: Main, Mizzen, Yankee, Staysail and 2 Spinnakers
Displacement: 298 tons
Ballast: 77 tons
Tenders & Toys
Pascoe guest tender: 6.2m (20′) 6 cylinder Volvo Penta through a stern drive, capable of 35-40 kts.
Aqua Pro crew tender: 4.5m (15′) 40hp, 4 stroke outboard.
Toys: Wakeboard complete with small and large bindings, 1 set of Combo water-skis, 2 towable inflatable toys (1 Ringo), 2 game rods and 3 casting rod sets of fishing poles, 8 full sets of dive gear for rendezvous diving, full sets of snorkeling equipment to accommodate guests. 
Audio Visual Equipment and Deck Facilities
Linux AV Server Media Player based system to supply music and movies on demand throughout guest cabins, dining, and salon areas.
Sonos Music system to play music through all zones onboard, complete with iPod docks in guest areas.
Guest cabins also have a local DVD player for playing a movie or DVD or a music CD. Each guest cabin has its own local Marantz controller to select the desired function.
Communications: supplied to the yacht via VSat, Fleet broadband, Iridium and WiFi.
Notes: Marie can accommodate 8 guests using the standard beds or 10 guests using the Pullmans with 3 people in 2 staterooms.
Charter The Marie
What you get when you charter Marie?
Whether for charter or for private use, Marie is certainly the "Star of the Sea".
A voyage aboard Marie has something for everyone: exciting sailing, fabulous accommodations, great food and wonderful crew. Plus, there are endless opportunities for fun in the sun. In addition to sailing the big boat, Marie offers snorkelling, rendezvous diving, water-skiing, wake-boarding, fishing, and SUP along with a variety of blow-up toys. If you prefer spectator sports, there is a crow's nest lift that operates hydraulically and can take two guests 123 feet up the main mast for a bird's-eye view.
The Marie is usually in the Caribbean for the European winter/spring season and in the Mediterranean for the European summer.
Dining
Dining is an enormous treat aboard Marie. There is a formal dining room down below, but weather permitting, most guests prefer on-deck dining. The stewardesses take great pleasure in decorating the table with an inventive place setting each evening. Multiple-star gourmet meals accompanied by fine wines are the norm. Menus can be catered to your tastes; Asian fusion? Caribbean? Italian? Spa cuisine? The world is your oyster aboard Marie!
The Crew
Captain – Wes Cooper | New Zealander (Rotational)
Captain Wes Cooper hails from New Zealand. His career in yachting has been a natural evolution: he spent his youth participating in competitive dinghy sailing while he trained as a shipwright. He obtained his Master Shipwright Certificate after completing a full apprenticeship in Auckland. He then went down to the South Island to pursue his other passion – skiing. Eventually, after several back-to back winters between the US and NZ, he decided to hang up his snow boots and over a period of six years, created a boat building business in Wanaka, NZ. At age 29 he flew to the other side of the world to pursue a career on the ocean.
For the last ten years, he has been aboard sailing yachts and has enjoyed over 150,000 miles spent blue water cruising in different parts of the world. He spent six years captaining a 38-meter ketch in the Fjords of Norway and Scotland's outer islands and then spent a couple of years navigating in Captain Cook's wake through French Polynesia, Fiji and the Pacific. From then on the yachts got steadily bigger, culminating in his being First Officer and Sail Master aboard the world's second largest privately owned Triple Masted Gaff Rigged Schooner, the 90-meter S/Y ATHENA.
Now, as skipper of S/Y MARIE, Wes has found his perfect yacht – and the perfect fit for his passions. Spare time is a rare commodity for a Captain but when he does get the chance, Wes loves any opportunity to refresh his Commercial Helicopter Pilot's license and get up in the sky! Wes is looking forward to welcoming future guests on board S/Y MARIE, providing them with a safe, yet exhilarating cruise wherever their fancy takes them.
Captain – Chad Thieken | American (Rotational)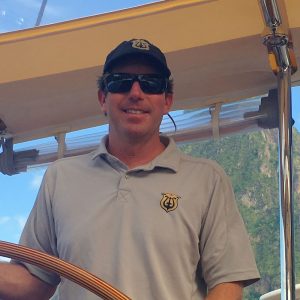 Captain Chad Thieken has been at the helm of some of the world's finest sailing yachts for almost 20 years, and is thrilled to be joining MARIE. From the academic to the applied, professional to past-time, yachting has always been his true course. A graduate of Texas A&M Maritime Academy, Chad sailed on the Inter-Collegiate team, designed and built an International 14' skiff, developed new techniques in the composites industry and completed a wooden boat apprenticeship.
Since then he's sailed 165,000 nautical miles, with 9 transatlantic and 2 pacific crossings, on sailing yachts Hanuman, Ranger, Ethereal, Windcrest, Athena, Hyperion, Independence and MARIE. Chad skippered the maiden voyage of the J-class Hanuman across the Atlantic in 2009 and in 2010 he and his wife, Kristi, welcomed their daughter Blake into the world. Recently, he's been relief captain and race crew, sold beautiful, luxury day sailers for Maine based Morris Yachts and studied naval architecture. He enjoys spending time with his family on Mount Desert Island, Maine, home to Acadia National Park where he races International One Designs competitively and is the current 2nd place North American Champion.
Chef – Olivia Barton-Knott | British
Olivia Barton-Knott has been a Chef in the yachting industry since 2007, on motor and sail boats. Yachts have taken Olivia across a good portion of the world's oceans including the Indian Ocean, the Persian Gulf and the Baltic. These amazing travel opportunities have developed Olivia's cooking style and contributed to a natural, stripped back presentation of the best seasonal produce highlighting its freshness and proximity.
Away from a life on the water, Olivia is a keen amateur cyclist – a hobby picked up from 18 months living in the Netherlands. Rugby, football, cricket, well any sport really piques her interest and she can regularly be seen trying to get the latest match report or waiting with baited breath to see the score.
First Mate – George Cooper | British/New Zealander
George was sailing before he could walk, being placed lovingly in his fathers Olympic Star yacht and sailing around lake Geneva. Since then he has done a lifetime of competitive world class racing in Finns, Lasers and keelboats. Having gained a Geology degree from the University of Bristol, he attempted to go and work in the city but realized it really wasn't for him. Thus moving into super yachts was a good way of combining a career with having fun sailing. He has thus never had a "real" job and is somewhat institutionalized. Simple tasks such as shopping and laundry cause headaches and great confusion for him. Luckily he does not have to do much of this leaving him free to concentrate on running the deck, sailing and making sure all the paperwork gets done!
Outside of yachting Georges main interests are squash, rugby and chess, which he used to play at county level. He is also a keen diver having done over 100 dives during his last 3 years in the Pacific.
Chief Stewardess – Laura Tudhope | British
Originally from England, Laura has been working in the yachting industry since 2012, starting as a Stewardess and evolving to Chief Stewardess. During her learning process, she understood the importance of delivering to the guests a good service, having excellent organization and teamwork with the rest of the crew.
In addition, the fact that she worked as a freelance make-up artist, developed in Laura a meticulous eye for detail. Laura worked in various motor yachts, both private and charter, including, 70m Martha Ann, 67m Drizzle, 78m Tango, 45m Mim, 80m Titan and 50m Boardwalk. Now on board S/Y MARIE she is looking forward to delivering her guests a once-in-a-lifetime experience.
Stewardess – Anna Phillips | British
Having grown up in the Cotswolds, Anna loves to be out doors and enjoys many sports including horse riding, rugby and skiing. After graduating with a sport science degree she decided to start her career in the Yachting industry. Her first boat was a 50m sailing yacht and it provided her with an amazing experience allowing her to compete in several Caribbean races.
After nearly two years onboard she felt it was time for a change and decided travel was her next adventure, where she explored South America, Asia, Australia and New Zealand. She then continued to work in the hospitality sector and worked in a luxury chalet in Val d'Isere for 7 months where she could continue with her passion for skiing. This is Anna's first season on Marie where she hopes to make your time on board an enjoyable and unforgettable experience.
Chief Engineer – Thomas Dawson | British (Rotational)
Born in Windsor UK, Tom grew up in Arles in the South of France, he keeps us very confused as to which is his mother land… Depending on him watching rugby or eating cheese! Tom went to a sports University with sailing as his main option and after doing an exchange program in Granada, Spain; the bug for travelling never let him go back.
He has been working on Yachts for over 12 years; starting as an instructor he then skippered a small sailing boat across the Atlantic at the age of 21. This long trip made him switch to engineering as he didn't like being at sea without knowing how to fix things, and he's not too bad at it.
Tom met his wife on his last vessel and they now have two children. He spends his time off with his family renovating a house in the South of France.
Chief Engineer – Christopher Ellis | Australian (Rotational)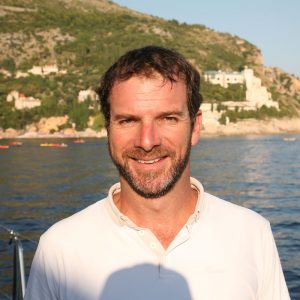 Originally from Australia, Christopher has extensive experience in the yachting industry as he worked on board motor and sail yachts since March 2000 as chief engineer. Christopher is an experienced and passionate sailor, who travelled and competed around the word.
His major interests are mainly on the water: sailing, travelling, yacht racing, cruising, diving, kite surfing and other water sports. Christopher's familiarity with commercial vessels makes him a perfect fit for MARIE and he is ready to assure his clients a professional and effective service on board.
Bosun – Rory Stirling | British
Rory was born in Surry, United Kingdom, where he grew up in the countryside with his three brothers. Spending many days riding motocross and enjoying the outdoors, it was his grandfather who initiated his call of the sea, teaching him how to sail off the coast of Portsmouth. Rory spent his early adult life travelling through Australia and North and South America. He eventually resided in Canada to pursue his love of snowboarding. It was here that he broadened many skills that scoped him for the future, learning various trade and hospitality skills.
Rory's sailing career became more serious when he joined a racing vessel in the Mediterranean, competing in many regattas worldwide and becoming a key part to the onboard team. Joining MARIE, Rory hopes to further his sailing knowledge and ability as part of a strong team. With a happy go lucky attitude and great sense of team spirit we are happy to welcome Rory as the newest addition to the MARIE team.
Deckhand – Pandora Jones | Scottish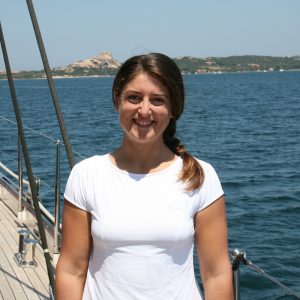 Pandora was born in Scotland and grew up on the West coast of Australia. Halfway through completing high school, her parents sold their house and took the family on an epic adventure on their 50-foot cruising sailing yacht. They spent a couple years sailing from England to New Zealand stopping at St Helena and Cape Town on the way. This adventurous journey sparked a fascination for travel and an eager curiosity for exploring new and remarkable corners of the world by sailboat.
After a brief stint in fashion school, Pandora decided to pursue a different path and attained an entry-level maritime license in Australia. Her itchy feet returned and she spent the next couple years working in Queensland, Australia and cruising the San Juan Islands in Washington State on a wooden sailboat. Her adventurous spirit eventually took her to Sicily and Barcelona, working as a chef on a modern classic sailing yacht. Pandora is a creative soul at heart and has been drawing for as long as she can remember. Her favourite medium is watercolour and has illustrated custom family portraits for clients around the world. Last year she created a limited edition calendar, each month featuring a quirky character with a short tale. She credits her time spent exploring unfamiliar places by sea and meeting intriguing humans for her inspiration.